The Program book, tickets and wristband from the Michael Jackson memorial service are the latest and hottest Jackson collectibles being offered for sale. It seems that many people are selling the entire kit or at least a few pieces in order to pay for their expenses for the event. It's a little weird but at the same time it makes sense. It's as if they got to attend for free, without any keepsakes or memorabilia. People came from all over the country, in fact, the world, to the Staples Center in Los Angeles, CA where the memorial service was held.
These items could turn out to be quite valuable to Michael Jackson collectors and fans in the not too distant future. When you consider that there were only about 8,000 people who attended, that's not a lot of programs in the scope of things. Approximately 1.6 million people signed up for the lottery to attend. About 30 million viewed the memorial service on TV. That's a lot of interest. Supposing that all 8,000 Michael Jackson
memorial service program books
, tickets and wristbands survive the ravages of time and age, that's still a very rare item with a huge demand!
The prices sellers are getting for these collectibles are varied from as low as $25 for a torn or stained ticket to $400 for a mint condition set. A set being the program book, ticket and wristband. Of course, most of these items are found on eBay and it seems a lot of inexperienced sellers set their items to end at odd times, like 3 or 4 Am. Since there's nobody up at that time shopping, these items sold really cheap to a lucky few! But I doubt that will last as people get smarter! (I wasn't one of the lucky ones!)
As with all collectibles though, what is it really worth? It's always up to the collector, quite often the sentimental value weighing in more than the monetary. However, with the Michael Jackson memorial service programs, I think this is one item that will always have some decent monetary value. It's just so scarce and the "King of Pop" legend is not going away any time soon.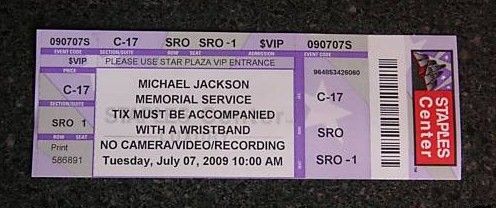 Adding any of these pieces, the program book, wristband or ticket to a Michael Jackson collection will visually and emotionally enhance the display. I said it earlier, it can be precieved a little strange, but just think about it. At the most only 8,000 people in the world can have a full kit. And you know that isn't going to happen. It's going to be more like 3,000. And that's quite rare!
I didn't even apply for the lottery as it would not have been possible for me to attend anyway. I never even thought about these programs until they were starting to surface on eBay. I think the biggest reason they have become so popular is because they are actually nice. The color booklet is beautiful with nice pictures and the gold wristband and ticket are classy too. I'm hoping to get my
Michael Jackson memorial program book
, wristband and ticket, the whole kit! I can't afford a "mint condition" set but I'm working on getting one piece at a time. It's going to be one MJ memorabilia collectible I'll treasure it for a long time.