Have you seen the new Hot toys
Michael Jackson Thriller figure
? This collectible doll is scheduled for release sometime in mid November. It's really quite a work of art. Check out the detail in the face! This 1/6 scale figure will come in a set with both the regular and monster heads. It even has an extra torn coat for displaying the monster mode!
This new figure is much nicer than the old dolls Hot Toys released in the 80's. It even appears to be nicer than the Billie Jean doll, which is actually a very nice figure! I never really cared for any of the vintage Thriller figures out there but this one is going to make up for that!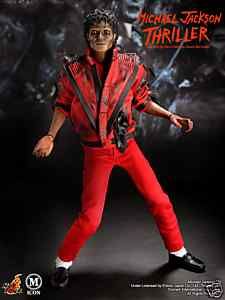 There's little doubt this piece of Jackson memorabilia will be sold out before Christmas. Many sellers on eBay are taking pre-orders on these
MJ figures
which I think is the best route to go. Other wise you'll be paying a small fortune for these figures if you want one in time for Christmas.
I think anyone can see that this piece is a must have for any collection! If the doll looks as good "in hand" as it does in the pictures this may set a new higher standard for detail in these 12 inch collectibles! I think Michael Jackson would be pleased with this Hot Toys figure.